WHAT IS THE BEST DIALYSIS CATHETER LOCK SOLUTION – A SYSTEMATIC ANALYSIS OF PUBLISHED STUDIES
Maximilian Wurster1, Frieder Keller1
1Internal Medicine 1, Nephrology, University Hospital, Ulm, Germany
INTRODUCTION AND AIMS: About 20 % of all patients on hemodialysis need a catheter for vascular access. Clinical judgement about the advantages of the various lock solutions can be based on 3 criteria: (i) risk of catheter-related blood stream infec- tion (CRBSI), (ii) frequency of thrombosis with malfunction and (iii) cost. We made a systematic literature analysis on what the best lock solution might be.
METHODS: Out of 4106 studies published between 2006 and 2017, the 40 were selected reporting on a controlled trial with at least two lock solutions. The studies reporting on the following 4 lock solutions were compared: heparin, citrate (4 %), taur- olidin, alteplase/ urokinase – or various combinations of them. Studies on gentamicin, EDTA, citrate 30 % and parabene were not further considered due to outdated or inconclusive data. The sum of risk score ranking was used to simultaneously account for advantages and disadvantages of the solutions.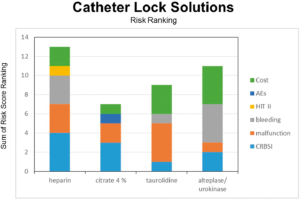 CONCLUSIONS: An aseptic handling provided, the citrate 4 % might be the best cath- eter lock solution.
Check full article here